Grade 9 Program Information Evening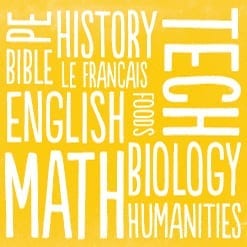 Attention grade 8 parents and students! It's time to start planning for September 2022.
Students and parents/guardians of students currently in grade 8 are invited to a program information evening on Tuesday, February 15 at 5:45 pm. NOTE: TIME CHANGE
This is a valuable time for parents/guardians and their student to hear important information regarding secondary school courses, course selection, programming timelines, student supports, extracurricular activities, graduation requirements, and more!
We are planning to host this presentation in our brand new Learning Commons. There will be two in-person sessions available at 5:45 or 6:45 pm. We are also offering the option of attending the session virtually at 5:45 pm. Due to current pandemic restrictions, we are limiting the number of in-person attendees to 50 per session.
An email will be sent to all current grade 8 parents with more information and links to sign up on February 8. Please contact Mrs. deRegt if you did not receive the email.
**Current grade 9 students will receive a presentation during school hours related to grade 10 and the graduation program. Details and information will be sent home to parents after the presentations are done.**