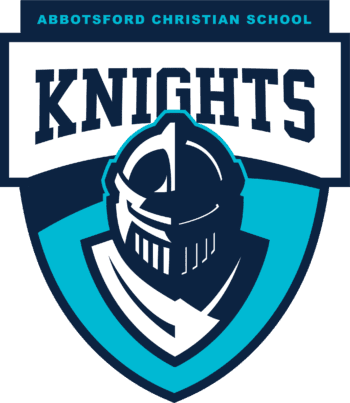 ACS has a long history of achievement in athletics, locally and provincially. Our goal is to use athletics as a method of implementing our vision to engage the mind, nurture the heart, and shape God's world. We do this with a broad and intentional athletic program, which integrates our competitive goals with our Christian worldview. Everyone has a role to play on a team. We teach our athletes how to play for a team. The motto above our gym doors says,
"Many Parts. One Body.
Many Players. One Team."
Each human being is created by God to praise and serve Him. The whole person is called to be an instrument of service to God and others. Through our athletic program, athletes learn character development, leadership skills, athletic skills, teamwork, humility, service, courage, responsibility, and cooperation. Our teams play hard, play smart, and play together.
We have found that this focus also leads to success in competition. The Knights have won five provincial banners in basketball and volleyball and one provincial banner in track & field.  They have captured 33 Fraser Valley Championships in basketball, cross country, golf, track & field, and volleyball and have won six individual Provincial gold medals in track & field. Along with a competitive spirit we have run our programs to be inclusive: 40% of the secondary school student body participates in extracurricular sports and our grade 8-12 track & field team regularly has 75+ members.
ATHLETICS CALENDAR
View full athletics calendar

ATHLETICS PROGRAMS
VOLLEYBALL
Volleyball is the longest running sport here at ACS and has provided our teams with tremendous opportunity for success. On the boys side, Jack Boersma started the program and coached for many years while Anthony Jansen has served as head coach of the senior boys team the past 16 years. The Senior boys team highlights include: Provincial 'AA' Champions 2018, Provincial 'A' Champions 2014, Provincial 'AA' Silver Medallists 2017, Provincial 'A' Silver Medallists 2015. 
The girls side has seen tremendous growth in numbers in recent years. We now offer a grade 8 team, grade 9 team, junior team, and senior team. Recently, the grade 8 team won the Fraser Valley title in 2017 and the grade 9 team won the Abby-Mission title in 2018.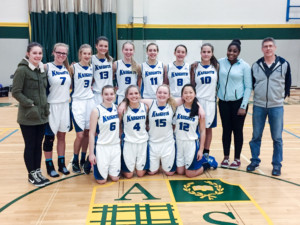 BASKETBALL
Keith Stewart really got things going in 1988 and has been a builder of both the boys and girls programs. Our basketball teams have won 4 provincial titles; the boys winning in 1989, 1991, and 2005, and the girls winning in 2010. Our teams have qualified for numerous "A" and "AA" and junior provincial championships and have had many graduates go on to play at the post-secondary level.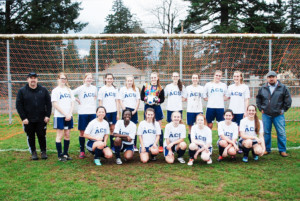 SOCCER
Both the girls and boys programs are in the emerging stages. Success in the standings has been hard to come by against many of the public schools, but our teams show well at the Christian Schools Tournament. The boys side has a lot of participation from our international students. Boys soccer is in the fall and girls is in the spring.
GOLF
Although many other schools have dropped their programs in recent years Keith Stewart continues to lead the charge for the Knights. This program dates back 20 years and the team won the 'A' Fraser Valley title in 2011 and has qualified for several 'A' and 'AA' provincial tournaments.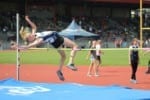 TRACK & FIELD
Jack Boersma and Pete Brandsma were the leaders of the Knights track & field teams for many years. Scott Visser and Kathy Andrews have taken the baton and continue to grow this team along with many other competent coaches as the Knights are well known for amassing a large team despite our school size and competing hard against much larger schools. The Knights have won many Fraser Valley titles, numerous Christian Schools Championships, and have groomed four provincial individual gold medalists. 2019 was a banner year as the team won both the senior girls and boys and combined Provincial A titles!
CROSS COUNTRY
This season runs in the fall and all are welcome to participate in this program. We are famous for getting up early and training before school and we enjoy many long runs and the food afterwards. Four athletes have gone on to run at the post-secondary level. Vince Van Dyk resurrected this program ten years ago and Kathy Andrews has been instrumental to the continued development of the team and the Knights are provincially recognized as year after year we qualify multiple teams to the BC's in this non-tiered sport. Recent Highlights: 2018 Junior Girls Provincial Silver Medallists, 2018 Junior Girls Fraser Valley Champions, 2017 Junior Girls Fraser Valley Champions, 2016 Junior Boys Fraser Valley Champions, 5 years in a row as Christian Schools Champions. The current grade 8-12 team boasts 26 members.