Preschool applications for 2023/24 are now available. To receive your application link via email, please fill in the preschool inquiry form below. 
ACS PRESCHOOL
God created children full of imagination and curiosity! They have an exciting world at their fingertips ready to explore. Our aim at Abbotsford Christian School Preschool is to offer an  enriched, non-threatening, and stimulating  environment that recognizes the God-given uniqueness of each child and his/her own individual needs. As the saying goes, play is a child's work and the classroom his/her laboratory. Through play and varied activities, including music and movement, creative art, games, field trips, stories, outdoor play, Bible time, and quiet time, your child will be given the wonderful opportunity to DEVELOP HIS OR HER POTENTIAL in all areas of learning, including social, emotional, physical, cognitive, and spiritual. As a Christian preschool, we recognize that all children are children of God called to obedience and service. The preschool too must strive to be a community in Christ. Children are taught to love God above all, love their neighbours as themselves, and be good stewards of God's creation.
How do we as teachers facilitate your child's growth during the year?
Giving each child unconditional love with smiles, friendly words, encouragement, and care 

Being a good listener

Providing limits that are reasonable and understandable to the children to create a safe place

Giving opportunity to succeed and build confidence, being sure the tasks are challenging and not frustrating 

Helping each child be responsible, giving her/him the tools to do her/his own "task" 

Developing problem-solving skills, giving guidance while children work out their own problem 

Knowing the individual needs of each child through a good knowledge of child development, working at meeting areas of growth through planning appropriate activities

Celebrating accomplishments—one step at a time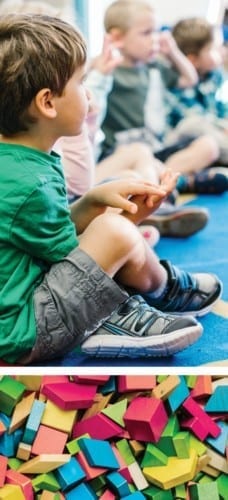 PROGRAM OUTLINE
While every day is unique and flexible to the needs of the class, we generally stick to a program schedule like this:
Children explore the different interest centers set up around the room. They also may do a structured art at this time.
All children are encouraged to participate.
Good morning routines, music and movement, stories, group games, discussion time, and more.
Wash hands, sit down for snack, prayer of thanksgiving.
Children choose a book and sit quietly and read.
Outside play or indoor gym time (depending on weather). Children engage in large motor activities.
Closing circle and dismissal  
2022/23 PRESCHOOL FEES
THREE-YEAR-OLDS:
Tues & Thurs mornings: $155/month
FOUR-YEAR-OLDS:
Tues & Thurs afternoons: $179.00/month
Mon, Wed, Fri mornings: $210/month
Mon, Wed, Fri afternoons: $210/month
All rates are established each June for the following year.
If you like what you see so far...
...just wait until you check us out in person! We'd love for you to stop by and see our classes in action. For more information, feel free to contact Denise Konynenbelt, our Preschool Director.
CONTACT DENISE