ACS PRESCHOOL
God created children full of imagination and curiosity! They have an exciting world at their fingertips ready to explore. Our aim at Abbotsford Christian School Preschool is to offer an  enriched, non-threatening, and  stimulating  environment that recognizes the God-given uniqueness of each child and his/her own individual needs. As the saying goes, play is a child's work and the classroom his/her laboratory. Through play and varied activities, including music and movement, creative art, games, field trips, stories, outdoor play, Bible time, and quiet time, your child will be given the wonderful opportunity to DEVELOP HIS OR HER POTENTIAL in all areas of learning, including social, emotional, physical, cognitive, and spiritual. As a Christian preschool, we recognize that all children are children of God called to obedience and service. The preschool too must strive to be a community in Christ. Children are taught to love God above all, love their neighbours as themselves, and be good stewards of God's creation.
PRESCHOOL APPLICATION FORMS 2020-21:
The 2020-21 ACS Preschool application forms are now available for download. Please print, complete all pages, including the checklist, and return to the elementary office. Thank-you!
2019-20 PRESCHOOL FEES
THREE-YEAR-OLDS:
Tues & Thurs mornings : $130/month
FOUR-YEAR-OLDS:
Tues & Thurs afternoons : $150/month
Mon, Wed, Fri mornings : $175/month
Mon, Wed, Fri afternoons: $175/month
All rates are established each June for the following year.
How do we as teachers facilitate your child's growth during the year?
Giving each child unconditional love with smiles, friendly words, encouragement, and care 

Being a good listener

Providing limits that are reasonable and understandable to the children to create a safe place

Giving opportunity to succeed and build confidence, being sure the tasks are challenging and not frustrating 

Helping each child be responsible, giving her/him the tools to do her/his own "task" 

Developing problem-solving skills, giving guidance while children work out their own problem 

Knowing the individual needs of each child through a good knowledge of child development, working at meeting areas of growth through planning appropriate activities

Celebrating accomplishments—one step at a time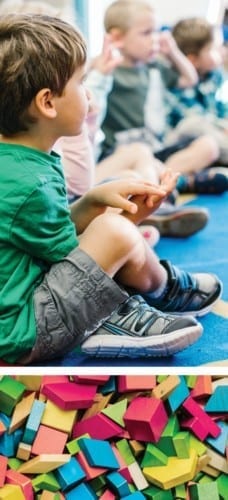 PROGRAM OUTLINE
While every day is unique and flexible to the needs of the class, we generally stick to a program schedule like this: