Grade 8 Celebration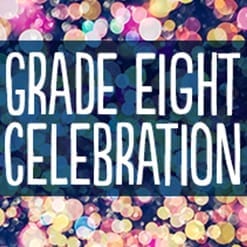 CONGRATULATIONS to all of our grade 8 students who have nearly completed their middle school years!
We wish we could celebrate with all of you in person as we mark this significant time in the life of each of our grade 8's, but this year again, we will experience this as a virtual event.
June 15:  Celebration will be filmed in our new music room.
June 22:  A video link will be shared here at 3:00 pm.
Event Confirmation:

Confirmed Online