Welcome to another school year at ACS! We're looking forward to reconnecting you and welcoming the many new students to our campus! The first day of school will be here before you know it. To keep you in the loop for the start of the year here are some helpful pieces of information to get you started.
OPENING DAY:
Here are some things that you can expect on the first day of school:
Staff: Our staff want to welcome you to ACS. You will find us all out and about as you enter school. Feel free to connect with any adult in the building if you need help finding something or if you have a question.
Anchor Time: we begin the year in our grade 9-12 anchor groups. These groups are connected to your house colours. The group lists will be posted in the lobby. Group time starts at 8:30 am.
Opening Day Chapel: this is a chance to begin our year with worship, a challenge, and a few introductions.
Short Blocks: the schedule for the day is written below. Our goal is to have you visit each class for a short time to get an introduction on what to expect from each of your teachers this semester.
Friendly Faces: we hope your first day of school is warm, welcoming, and exciting. If you need anything, don't be afraid to ask ANY staff member for help. Veteran students will help new students and point people in the right direction so don't be afraid to ask. We are all very excited for the start of the year.
FIRST DAY SCHEDULE: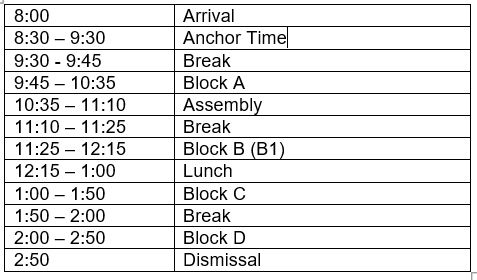 STUDENT INFORMATION
You will receive a first day package in your anchor blocks which includes your school schedule, campus leaving forms (grade 11 and 12 only), car registration forms etc.
Please bring a charged laptop to school everyday.
Students (and parents) will be receiving important information about Edsby, our new learning management system that was announced last year.
LOCKERS
Lockers are available on a first come, first serve basis. Please bring your own lock with you and see Ms. Wittrup in the SLC office to sign out a locker.
PARKING/ROAD CHANGES
Over the summer the city of Abbotsford made changes to the road markings on Old Clayburn Road. There is no longer any parking on the road in front of the school (by the trees). Please enter the main parking lot and turn right. The new parking lot offers ample space for pick-up after school. Please do not park on the bike lane for drop-off. The left turn lane on Old Clayburn Road has been newly expanded which should help with line-ups and congestion.
COURSE CHANGES
Student schedules are being finalized this week and will be handed out on the first day of school. For any students who wish to make a change to their schedule, course change request forms will be available at the Student Life Centre office during the first week of school and the process will be explained on day one. Submitted forms must include a parent signature. Forms will be reviewed and prioritized based on grade level, academic requirements, and course availability.
Please note: many courses are near capacity or waitlisted and some changes may not be possible. Only students with blank spaces in their schedule will be met with on the first day. Students must attend the classes on their schedule until changes are made.
WELCOME NEW STAFF!
We want to welcome a number of new staff to ACS Secondary:
Kaitlyn Born: Learning Support Services Coordinator.  Kaitlyn has extensive experience as a Behaviour Consultant and enjoys partnering with families to develop the best learning environment for each child. She recently completed a master's degree at TWU in Special Education. We look forward to having Kaitlyn share her expertise and her passion for students in this role.
Corlissa Bullett: Math Teacher. Corlissa is graduating from TWU's PYP (Primary Years Program) program this spring with a math and music minor. She is currently finishing her final practicum at MEI Middle. Corlissa has spent time as a teacher assistant in the TWU mathematics department and is an accomplished violinist. One of the reasons she applied to ACS is our desire to educate through relationship. 
Stephen Jansons: Math, Robotics, Accounting Teacher. Stephen and his family recently moved from the US (Washington state) and he is currently teaching at Surrey Christian School. He has taught various classes (primarily math) during his time teaching in Washington. He has additional experience with English as a Second Language (ESL), Young Life, and diverse learners. Stephen has also spent time as a director of Young People Ministries and at Bible camps. 
Gary Riemer: Foods Teacher. Gary is joining us from the food services industry. Gary is an experienced commercial chef with a passion for creativity in the kitchen. 
Rebecca Shulba: Middle and Secondary Librarian. Rebecca has worked for the last several years as a teacher librarian and tech at Teacher Learning Academy. Prior to that she served as an elementary school teacher at Langley Christian and Agassiz Christian schools. We welcome Rebecca. Her eagerness to cast vision in our innovative Learning Commons is one we are looking forward to.
Johanna Spuls: Middle and Secondary Receptionist. Johanna is a lifelong resident of the Fraser Valley and recently completed her Applied Business Technology program at UFV. 
Our LSS staff was busy hiring new EAs over the summer. We are excited to welcome the following EAs to our secondary campus:

Anna-Maria Cormack
Kristal Hystek
David Ji
Crystal Riehl
Jill VanderHoek
SCHOOL SCHEDULE
Download the 2022-23 secondary timetable and BABs schedule.
SECONDARY CAMPUS MAP
Not sure where you're going? Download the new middle/secondary campus map.
SECONDARY SCHOOL SUPPLY LIST
Download a copy of the secondary school supply list.
We are a one-to-one campus which means that each student needs to come to school with a laptop. We have a partnership with Staples and you may want to consider one of these options. Please note that purchasing a laptop from Staples is not required.
SEE FIRST HAND
You are always welcome to visit our campus and see first-hand how God is at work at our school! Chapels are on Fridays at 9:20 am and parents are always welcome.
In His service,

MIKE RIEZEBOS
Secondary Principal