We are getting ready to welcome our students on campus and into our classrooms on Tuesday, September 7! As you can imagine, there have been a lot of changes to our campus this year. Teachers are in new classrooms, hallways have been transformed and we've been blessed with new spaces too. These are exciting times. As excited as we are, there are still a number of important COVID protocols in place and we ask for your help in making ACS Secondary a safe environment for all students and staff. 
WHAT TO EXPECT ON THE FIRST DAY:
The first day is a full day with regular school hours.
We will have an entrance just for the secondary campus. Please follow the gated pathway around the outdoor stage to the south doors near the secondary front office (see map below).
Classes begin at 8:15 am.
Our renovated and expanded campus has changed a lot over the summer. Teachers have new classrooms and we've updated all of the room numbers. We will provide time and space for our students to adjust to the new "lay of the land." When students get to school on the first day, they will head immediately to their grade level areas where they will receive a campus map and updated schedule (room numbers included):

Grade 9: Lower common area of our new wing
Grade 10: Upper common area of our new wing
Grade 11: Band room
Grade 12: Secondary gym

Students must wear a mask at all times while inside the secondary campus (in all common areas and while in class).
Students must sanitize at the secondary entrance and again as they enter their classroom.
Bells will be in effect this year. We are only using warning bells and start of class bells. Please head to your classes when you hear the first bell.
Grade 11 & 12 students will be allowed to leave campus for lunch and during study blocks. However, all students must submit a campus leaving form to Ms. Stout, signed by their parents, before they can leave campus.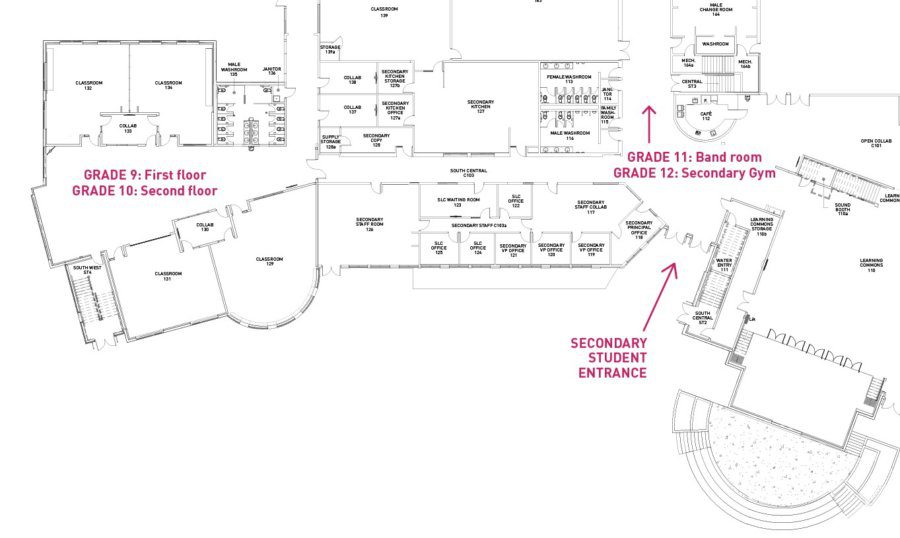 PARENT PORTAL FOR STUDENT INFORMATION
We utilize a program called PowerSchool which allows parents to view their child's progress and grades online any time. It also allows parents and guardians access to school announcements, email updates of student progress, student fee accounts, and many other features. Access to the mySchool Portal replaces our paper copies of "interim reports."
If you are a current parent user, you will need to add any new children who entered grade 9 this year. Families who are new to the secondary campus will receive information through an email next Wednesday on how to set up the parent portal.
You can find the link to mySchool Portal on the ACS website under "Login / Parents."
LOCKERS
Lockers are available on a first come, first serve basis. Please bring your own lock with you and see Ms.Stout in the secondary office to sign out a locker. 
WELCOME NEW STAFF!
We want to welcome a number of new staff to ACS Secondary:
Todd Bakker: Math and Science Teacher. Todd has previously taught math and science classes at Surrey Christian School, as well as being involved in their international program. Todd has a master's degree from SFU in curriculum and instruction.
Kassandra Berger: Educational Assistant. We are excited to welcome Kassandra to our ACS Secondary team as an educational assistant.
Abi Kibarita: Educational Assistant. We welcome Abi from the Middle campus. We're excited to have her join our LSS team at the secondary campus!
Monica Manning: Educational Assistant. We welcome Monica to our ACS Secondary team and look forward to working alongside her as we serve the students in our LSS department.
Kyle Brosseau: Educational Assistant. We welcome Kyle to our ACS Secondary team and look forward to the gifts and talents you bring to our community.
Jami Derejko: English Language Learner Teacher. Jami is known to many ACS from her previous work as middle school ELL teacher and short-term programs coordinator. In her new role as ELL Teacher, Jami will be involved at both secondary and middle school campuses as she works with our international students. We are so thankful and look forward to working together once again!
Pamela Van Dop: Math and Science Teacher. Pamela last taught at ACS in 2011 and has been a guest teacher throughout our system these past number of years. We are excited to welcome her to our campus and look forward to reconnecting with her!
Amy Morrow: Secondary LSS Coordinator. Amy has taught grade 8, grade 6, and music in the middle school and will now be moving to the secondary Learning Support Services Department as the new LSS Coordinator. Amy is currently undertaking a master's degree at Trinity Western University in special education.
Alison Williams: Secondary Foods and PE Teacher. Alison has most recently worked at the middle campus teaching textiles and graciously stepped into teaching some grade 8 music appreciation and French this spring. This year, she will continue with grade 8 textiles in addition to her new roles.
COURSE CHANGES
Student schedules are being finalized this week and will be handed out on the first day of school. For any students who wish to make a change to their schedule, course change request forms will be available at the Student Life Centre office during the first week of school and the process will be explained on day 1. Submitted forms must include a parent signature. Forms will be reviewed and prioritized based on grade level, academic requirements, and course availability. Please note: many courses are near capacity or waitlisted and some changes may not be possible.
SCHOOL SCHEDULE
See our new timetable with linear weeks.
SECONDARY SCHOOL SUPPLY LIST
Download a copy of the secondary school supply list.
There are a lot of new and exciting things this year. But we are together again, we have a wonderful new campus, and we are able to be connected in new ways. Keep our school theme in mind this year: Love God. Love Others. We'll all work together to get into a new routine and adjust to new spaces. See you soon!
In His service,

MIKE RIEZEBOS
Secondary Principal