TSI 2.0 Connect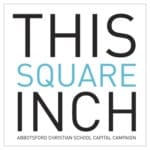 "There is not a SQUARE INCH in the whole domain of our human existence over which Christ, who is sovereign over all, does not cry MINE!" (Abraham Kuyper – 19th century theologian and politician)

The above quote was the theme and driving force behind our This Square Inch (TSI) capital campaign. The campaign was conducted to help raise funds necessary to construct the new buildings at the secondary campus, and now also the expansion to the middle school. With thanks to our highly engaged and supportive community, this capital campaign successfully raised a total of $10.5 million dollars.
What was also very evident throughout the duration of the campaign was simply the blessing of God's faithfulness in bringing our community together. All in all, 762 people (and counting) in our community of families have given of either their time, their talent, or their treasure to this project.
However, we have come to realize that the newer families to ACS over the course of the last three years have not been properly invited into the full story of our campaign vision. It was during the TSI capital campaign that we first coined the phrase, "WeAreAllACS" – which became a mantra around the school – and now of course this phrase encompasses your family as well.
To that end, we would like to invite you to participate in a TSI 2.0 New Family Connect event happening on Wednesday, January 20 and Thursday January 21, 2021. The event will be conducted virtually on a Zoom webinar platform.
Below is a link for you to RSVP for one of the two nights (they are identical in format). We hope that you will consider attending. Please click the first link below to choose the virtual event that works best for you.
We're so glad you are on the journey with us. At this event, we will bring you further into the full scope of the TSI story by sharing with you the genesis and vision of this building project, and how and why it has become such an important part of the ethos of everyone's experience at ACS. We strongly believe that every ACS family should have the opportunity to engage in this story – after all – it's now part of your story and your children's future #Weareallacs.
Thank you for joining us – we look forward to seeing you there!
If you would like to attend a TSI Connect event, please RSVP using the link below.