Secondary School Pictures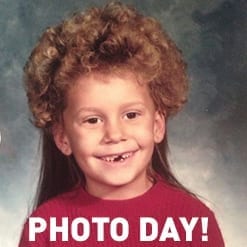 Here we go secondary students! Curl your hair, add some gel, put on your coolest clothes and get ready for photo day at the secondary campus!
School Photo Information:
All students will receive an order envelope from Barthel Photo along with two proofs of their pictures once they have been processed. Inside this envelope, secondary campus students will also find their ID Card.  
Please note the photo order return date as listed on the envelope, late charges will apply for any orders received after the stated return date.
Family Plan:
This plan accommodates parents who would like to take advantage of the Family Plan and have more than one child, and/or have children at multiple campuses. If you wish to order the Family Plan, simply check the Family Plan option and include payment with one of your child(ren)'s orders. There are examples on the envelope regarding how to calculate pricing for the Family Plan. Listing the other children included in the family plan is helpful for processing orders.
Digital Order Option:
You will notice this year that there is also an option to order a digital copy of your child's photo. Simply check the box for digital order, circle, asterisk , or put an arrow beside the picture you want, and clearly indicate the email address you would like it sent to (there is a box on the envelope for this). Please note, you will receive the image as a jpeg file so that you can print it as you wish—it will not come set up in photo package size options.  
Retakes:
Retakes will tentatively take place on October 20 at the secondary campus. More information about this process will be provided at a later date.
Family Plan and Retakes:
If you wish to use the Family Plan and one of your children would like retakes, please return your other child's/children's photo envelope(s) by the return date and please note under Family Plan on the envelope that another child is getting retakes. The child receiving retakes will receive another envelope with NEW proofs attached, which must be returned to school with your photo and package choices by the due date on the envelope. It is important that you return this second retakes envelope so that Barthel Photo will know which photo and package to process. You can include payment for all photos ordered with your initial order envelope, or wait until retakes have been taken and send payment in with that order.
All photos will be distributed through the school once retake orders have been processed.