Meet, Greet, & Enjoy A Treat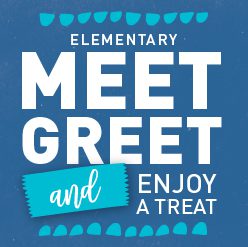 Welcome to a new year. We'd love to get to know you better, and although there are limitations to how we can meet and interact, we're excited to invite you to our "Meet the Teacher" event on Thursday September 16.
SIGN UP HERE  and choose one of the following time slots: 
4:30-5:15         Group 1 
5:15-5:45         Break (Teachers have to eat dinner too) 
5:45-6:30         Group 2 
645-7:30          Group 3 
WHAT IS IT ALL ABOUT
Families (parents and children) come and meet your ACS Elementary teachers
After meeting the teachers, stay and enjoy a treat or play on the playground
Meet other ACS Families, make new friends, connect with old friends
IMPORTANT DETAILS
Outdoor event – on the field/playground behind the school.
Our apologies, there will be no bathroom access or going inside the school.
Please plan your visit for your assigned times and plan to leave on time to allow access for the next group.
Parking is available at Sandy Hill Elementary and ACS Elementary.
This event is "weather permitting."  If it rains, the event will be cancelled.
Please follow ACS, local, and provincial Health and Safety Guidelines while attending this event.
If you have any questions, please call the elementary office (604.755.1891).
 We look forward to seeing you there and spending time in community.