Elementary Student-Led Conferences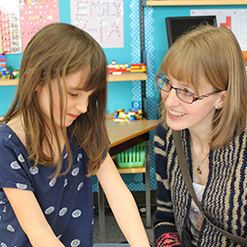 On Thursday, May 19, all classes, kindergarten through grade 4 will be holding student-led conference sessions for parents after school and in the evening.
The purpose of the student-led conferences is to have the students accept responsibility for reporting their progress to their parents. We have helped students prepare for this by giving them opportunities for self and peer evaluation. In this way they are learning to share the responsibility with their teacher for setting goals toward their on-going learning.
The students will report their development and accomplishments using work samples and self-reflection tools.
We encourage your participation in these conferences and request that you sign up for a time by following the "Sign Up Genius" link below. The conferences will be scheduled 30 minutes apart.
We are excited about these upcoming conferences, anticipating them as yet another way in which we will experience the strong sense of partnership that we feel with you, as parents. We ask that you attend the conference, not as a family, but only with your child from that particular classroom. Please note that care for your other school-aged children will be provided while you attend the conference. Care for your preschoolers will be provided by students from our secondary school (supervised by an adult).
Please note: "Sign up Genius " will be open at 5:00 pm on Friday, May 6.
This sign up is protected by an access code. When prompted, enter the code "myacs" for access.
Student Led Conference Sign Up Link
If you have any questions about this, please contact Jessica Schuurman, jschuurman@abbotsfordchristian.com